Loyalty Rewards
Loyalty Rewards
Definition
The new LOYALTY REWARDS program will allow you to offer and track point rewarded to customers for purchases made. This program can be for selected customers and products and the rewards value can be maintained by Category.
The new suite of programs is available through Sales Desk > Administration > Loyalty Rewards
Loyalty Programs
Assign a Program Code for customers to be included in the program

Setup a Type Code which will be assigned to Customers included in the program such as "R"
Add a Description for the program

Default Redemption Rate for the program, points per dollar

There is no automatic Redemption at this time

Extra charges to be included in the value such as Taxes and Levies

The initial default for this setting is "N"

Default Statement Message

Loyalty Customers
Add, Change or Delete Customers from a Loyalty Program
You can assign a customer to multiple programs should you choose.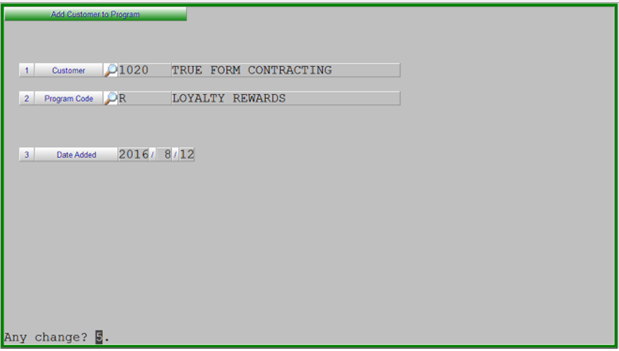 Loyalty Adjustment Codes
Used to setup codes and descriptions of the various adjustment types required.
Loyalty Rates
This is to assign the reward rates for various categories.
Using an "All Category" entry could setup the default and then you could setup individual categories as exceptions.
The Start and End Dates control the time that the Special Rate is in effect.
The rate is the number of points earned per sales dollar.

Only those extra charges set to Y for the program would be included in the sales total.


Loyalty Reward Adjustments
To make adjustments to a customer total point not related to sales invoices

Used to assign the initial start point and to adjust for point redemptions
Loyalty Rewards Inquiry
View the current status of a customer's Loyalty Rewards points and the activity
Loyalty Rewards Report
A listing of the customer's Loyalty Rewards point activity
Loyalty Rewards Statement
Similar to a customers A/R statement showing their activity and balance.

These Loyalty Reward statements can also be emailed to the customer.
Once the customers have been assigned to the program and the rates have been setup the point information can be built from invoice history from a start date if desired.
Invoicing
When an invoice is generated for a customer included in the program their Loyalty Rewards will be updated when the invoice is completed and the current Loyalty Reward total can be printed on the invoice.