V 1.4.2
V 1.4.2
New Features/Improvements
Improved Styling
The style of the COUNTERPOINT Cloud Platform looks a little different with the release of 1.4.2. These style changes are necessary as we update the libraries that power The Cloud Platform, and represent a lot of work in making sure we're able to offer features at the forefront of what web browsers are capable of. There's too many changes to list them all over here, but see the screenshots of various features for examples.
New Administration Page
The administration page no longer hides analytics, because that didn't make much sense. Instead, the page is the new home for administrator-level options and functions.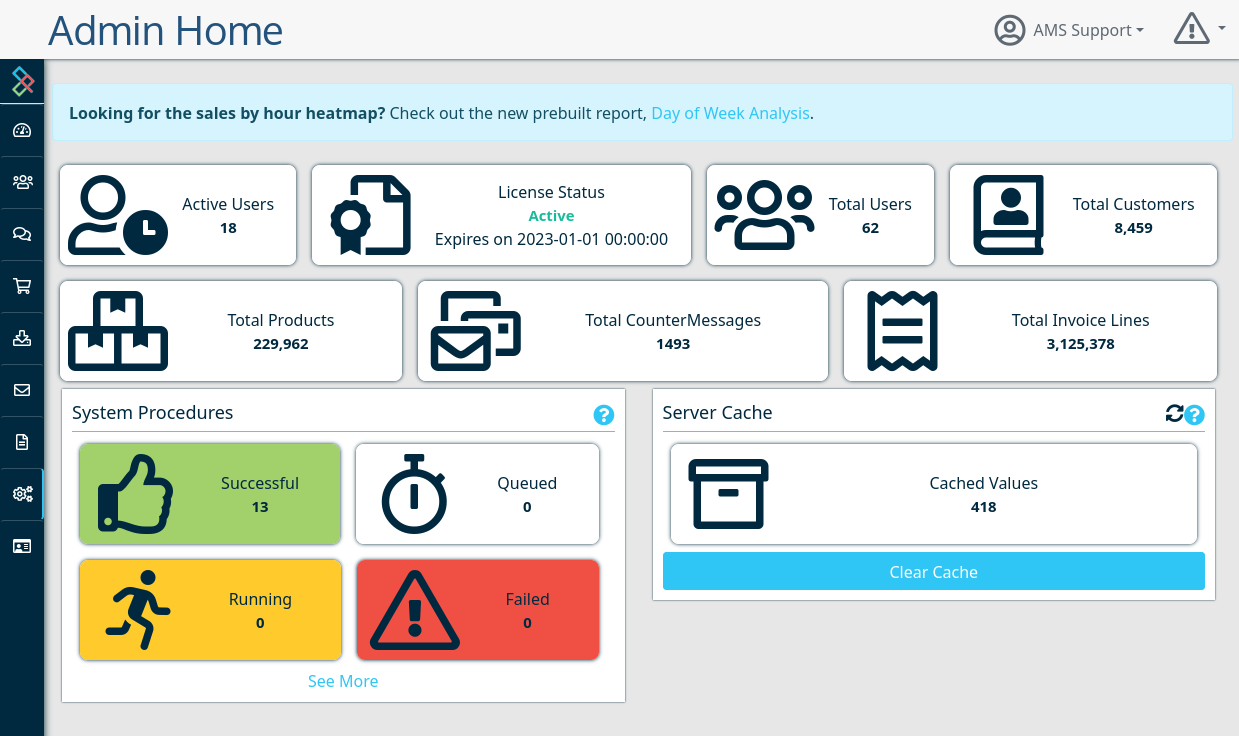 This new admin page still gives a instance-wide view of the amount of data involved, but now it includes the ability to clear cached values, as well as see and run the data procedures that process data that powers the COUNTERPOINT Cloud Platform.
Updated Filter Selection Header

The filter selection bar has been modified to be more streamlined, providing more visibility of your statistics onscreen. Clicking the 'Current Data Filters' will present you with the ability to modify the filters.
Day of Week Analysis Report
Replacing the sales heatmap that used to live on the administration page, the Day of Week Analysis Report in the Prebuilt Reports module offers a breakdown of sales per day of week per hour over a given period.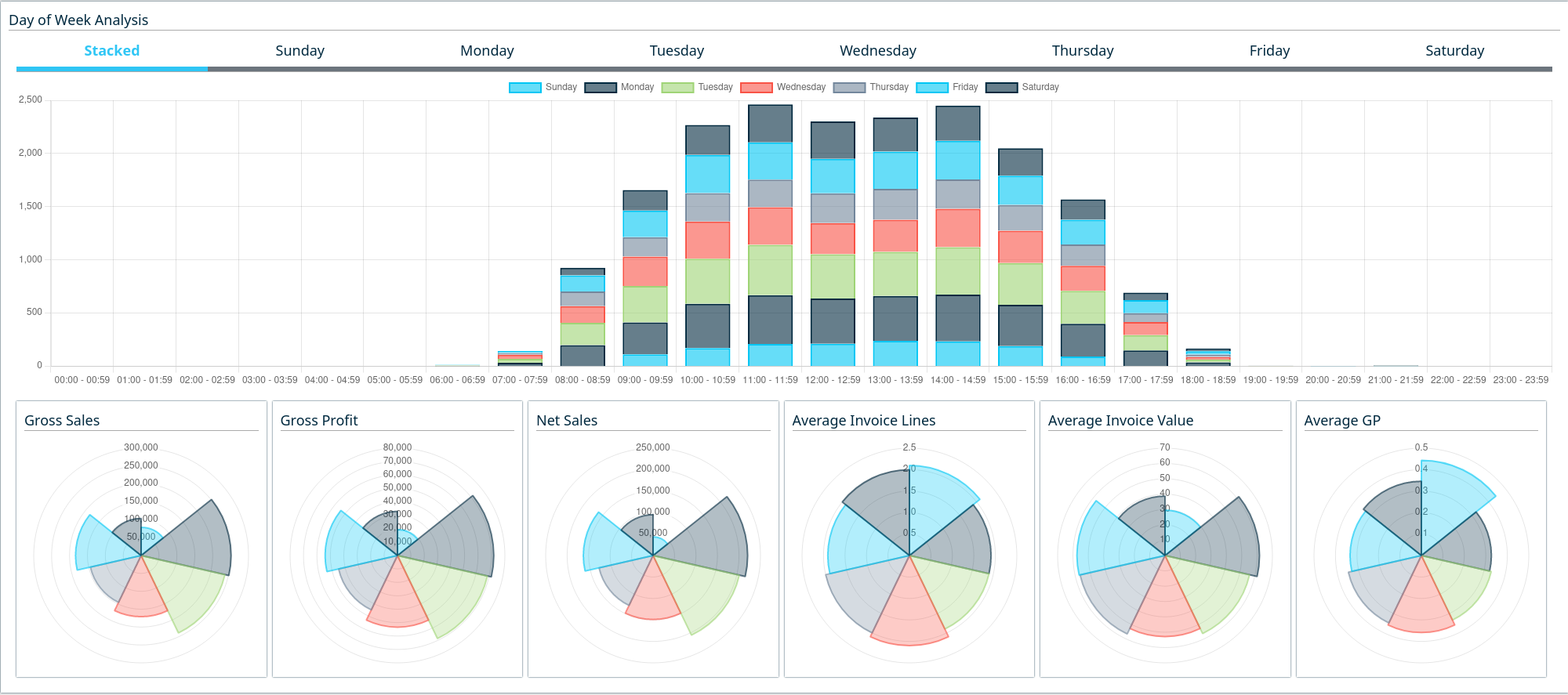 Clerk Analysis Report
Similar to the Day of Week Analysis Report, the Clerk Analysis Report offers  a breakdown of sales per clerk, and extrapolates some additional information that wasn't previously available such as "Active Hours" and "Invoices Per Active Hour".
"Active Hours" are calculated by subtracting the time of the first invoice on a day from the last invoice on a day for a single clerk.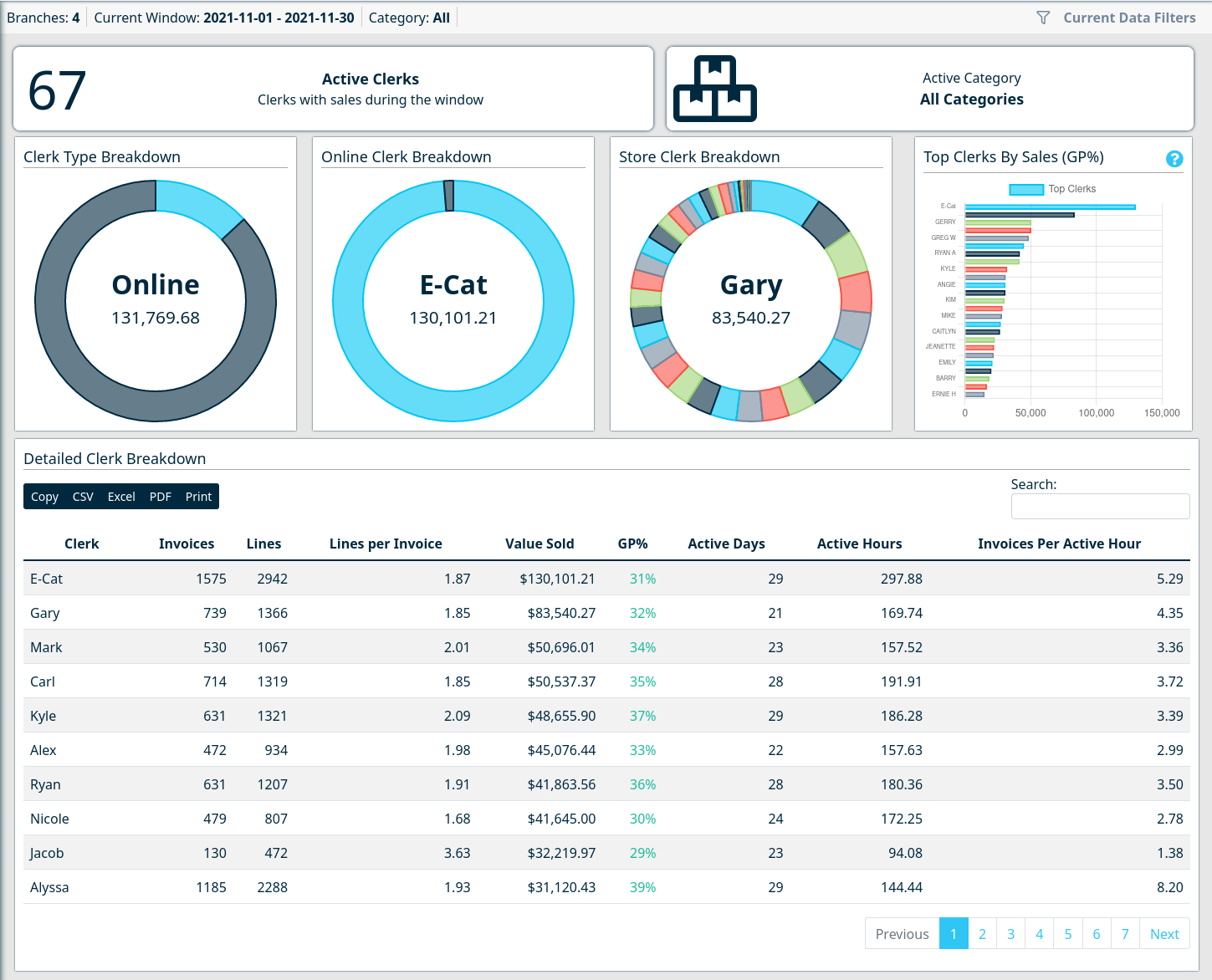 Stacked CounterCRM Monthly Sales History Graph
Alongside being updated to a newer library version, the Monthly Sales History graph is now broken out into "online" and "in-store" sales.

Ability to Archive Users
In scenarios where a user needs to be disabled, the CP2 Manager User Management page now allows you to archive a user. Select the user in question and, under the 'Special Actions' tab is the option to archive the user.

This will disable their access and remove them from user listings.
Addition of Bin Location
The bin location field has now been added to the Custom Report Generator screen

Small Fixes
Fix performance of WebReport Schema User selection when many WebReport schemas have Andbeen created
Modified the labels and icons of some sidebar categories to better represent their contents
Tons of small changes with the new theme and library updates