Setting Up Phones
This document is meant as a guide for assembling the Sangoma Desk Phones
S705 Desk Phone
Basic Assembly
The desk phones come in two pieces which need to be assembled. An S705 desk phone and an EXP100 expansion module. The expansion modules are not specifically paired, so any expansion module could go with any of the phones. The boxes contain all necessary mounting hardware and cables, and in a standard setup, we use the bottom slots for the stand.
Cabling (Without headset)
The box containing the expansion module should have instructions on connecting the unit to the S705 but, if not, the below picture is an example of the wiring. The yellow jack is for the P.o.E. in. PC port then plugs in to the Uplink port on the sidecar. Power cable connects from the EXT port on the phone to the DC12V port in the sidecar.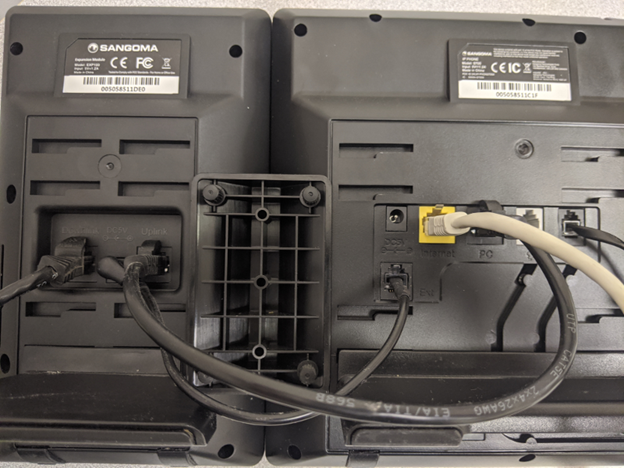 Cabling (With headset).
The headset requires 2 pieces of equipment. The headset itself, and the EHS30 module that connects the device to the phone for headset functionality.
In this configuration, the sidecar also needs to be powered via one of the included power adapters. The connections for this configuration are to plug in the inbound P.o.E. Ethernet cable into the yellow 'Internet' port. The power adapter into the sidecar DC5V port, the short Ethernet cable from the PC port to the Uplink port, another Ethernet cable from the AUX port to the port on the EHS30, the second RJ45 (Ethernet) cable goes from the EHS30 to the Ext port on the desk phone. Finally, the RJ12 (Telephone) cable goes from the desk phone port on the headset (next to AUX) and into the grey headset port on the phone.
Below is a photo of a desk phone with headset setup.